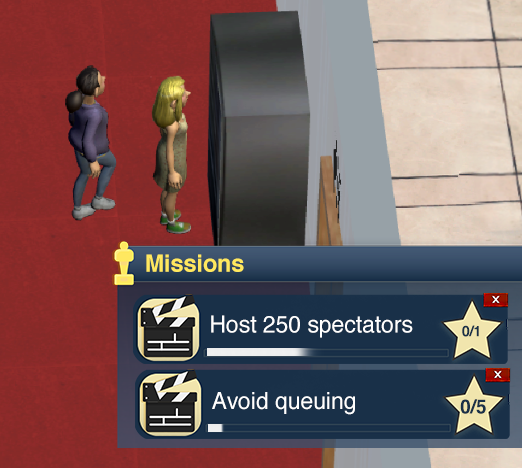 In Movierooms you will have the opportunity to carry out daily quests.
What are quests and how do they work?

Well, it's about more or less simple goals to reach in exchange for a reward. Quests encourage you to move forward and earn money, thus advancing even further. For instance, a quest could ask you to sell a certain amount of tickets in a single day, or to buy new plants to garnish your cinema, or to screen a specific movie for a given number of times.
In the prototype, there is a limited variety of quests, but in the final version of Movierooms quests and corresponding rewards will be much more diversified.
This leads us to discuss the game modes available in the final version of the game. We are planning to present you two different game modes. The first one, the "History Mode", allows you to live firsthand the history of cinema through its key moments and iconic places. In this mode, quests play an important role, as they are one of your progress' marker and only through them it is possible to unlock new equipments, thus making your cinema evolve according to your style and taste.
The second game mode, "Sandbox", gives the player more freedom, as the number of constraints is the lowest possible and this allows you to create your dream movie theater. In this case quests play a secondary role: they are essentially a different way to earn money and thus boost your business.
Quests are very common in many games, you surely know many examples. In our game, we aim at combining this well-established mechanism with historic features. What would you say if some quests will be linked to really existed actors, directors and studios? And their achievement will give access to unique films and equipments? A new way to represent the power of famous directors and studios in certain historical periods.
Do not hesitate to let us know your opinion on this post as well as on the previous ones. We would be very happy to receive your feedback!
See you soon for a new article!
Mad Pumpkins Team